Optimize Recruitment and Awareness of Alzheimer's and Related Dementias Clinical Research Studies
OutreachPro helps researchers increase awareness of and encourage participation in Alzheimer's disease and related dementias clinical research. Developed by the National Institute on Aging, this free tool allows users to create customized materials to educate communities about brain health and recruit participants into clinical studies. Through a guided, step-by-step process, users can choose from a suite of audience-tested images, headlines, and text to generate materials available in multiple languages.
What do you want to create?
Materials Describing a Specific Study
Create
Materials About How Clinical Studies Work
Create
Materials About Brain Health
Create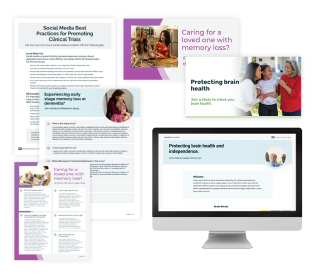 Materials Describing a Specific Study
Customize professionally designed and audience tested educational materials about clinical studies on Alzheimer's disease and related dementias. Select the types of materials you need and enter your study specifics. Build materials in multiple languages and at no cost to you. You can create:
Study websites (requires IRB approval)
Handouts (8.5x11)
Brochures (tri-fold)
Posters
Social media posts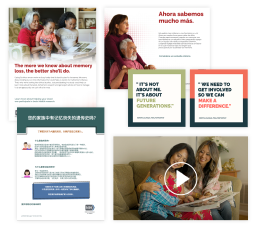 Materials About How Clinical Studies Work
Customize professionally designed and audience tested educational materials about clinical studies on Alzheimer's disease and related dementias. Select from a variety of tested messaging, as well as audience-specific video and photography assets. Include your own logo and contact information. Materials are available in multiple languages. You can create:
Handouts (8.5x11)
Brochures (tri-fold)
Social media posts
Radio scripts
Videos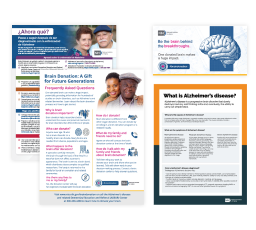 Materials About Brain Health
Customize free educational materials about brain health research, as well as Alzheimer's disease and related dementias. Access a library of content designed for various audiences. Add your own contact information and logo. You can create:
Handouts (8.5x11)
Brochures (tri-fold)
Social media posts